Lots of marketing and promotional tools for your business
Becoming an EverFast Point means giving your business access to many customer retention opportunities.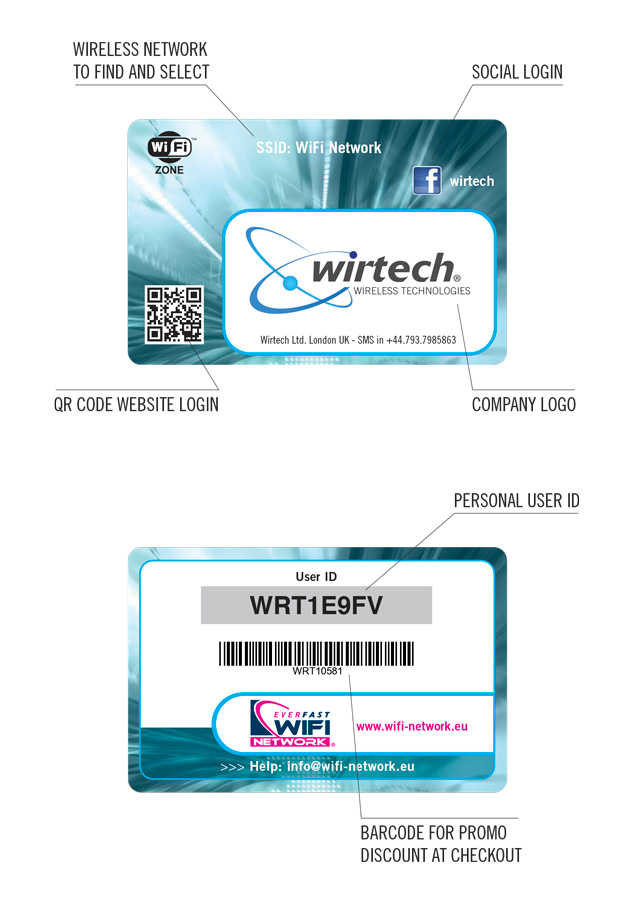 WiFi card
The WiFi card is the most immediate tool that the WiFi-Network/EverFast service provides for legitimately acquiring user data that can help you build customer loyalty. An excellent showcase that integrates functions particularly recommended for direct marketing campaigns. The cross-reference of data collected from the platform during registration and navigation, such as users' country of origin and access-related statistics allows you to plan and send targeted promotional messages by email or SMS.
Barcode
Each WiFi card has a barcode on the back, which can turn it into a Fidelity Card. The code can be read by any modern cash register and can be associated with the customer database of each business. This way, you can, for example, link every purchase to a customer profile and plan specific on-site promotions.
QR code
The WiFi card has a QR code on the front, which links to the website of your business and also to special promotional pages.
Newsletter
WiFi-Network/EverFast periodically sends a multilingual newsletter to all registered users. This newsletter contains up-to-date technical and logistical information related to the service and the latest news (e.g. activation of new EverFast Points).
The EverFast Points can also use the EverMail platform to send a custom monthly newsletter to all the users who have used their connection.
SMS sender
By means of the EverMail platform, EverFast Points can send advertisement and promotional SMSs, last-minute notices, etc., to all users who have used their connection at least once. You can also set the language of the message.